Hidden Nook
"Because in Cyberspace, no one can hear you scream."
Wednesday, January 05, 2005
Iran opening up?
[Media Source*]
Quite frankly, I am getting sick of the "back and forth motion of the Iranian government. Why can't they just be like North Korea and remain stubborn? According to the China Daily, Iran is agree to allow U.N. inspectors (who they enraged earlier) access to a large military site that the U.S. alleges is linked to a secret nuclear weapons program. The site is located in Parchin and the "experts" are expected to visit there in a few days.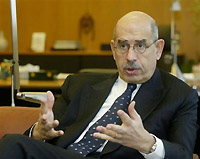 AP/China Daily
Director General of the International Atomic Energy Agency (IAEA) Mohamed ElBaradei speaks during an interview with the Associated Press, on Wednesday, Jan. 5, 2005, at Vienna's International Center.

The U.N. agency has been pressing Iran for several months now to inspect the military complex which has been used by the Iranian government to develop and produce ammunition, missiles and high explosives. China Daily goes on to report:

In leaks to media last year, U.S. intelligence officials said that a specially secured site on the Parchin complex, about 20 miles southeast of Tehran, may be used in research on nuclear arms, specifically in making high explosive components for use in such weapons.
The IAEA has not found any firm evidence to challenge Iranian assertions that its military is not involved nuclear activities.
But an IAEA report in October expressed concern about published intelligence and media reports "relating to dual use equipment and materials which have applications ... in the nuclear military area."


I don't seriously expect any thing to change with the regime in Iran. They are after nuclear weapons for one reason only: they desire to hold the "do not go to jail" card along with North Korea. Having a nuclear weapon nowadays seems to be the compelling reason for having lack of "international accountability." Hopefully the U.S. government will be able to do something about this situation before Israel does something about it. Selah!



Deutsch • Español • Français • Italiano • Portugese • 日本語 • 한국 • 汉语











Links to this post:
Comment Policy:
Comments posted here do not necessarily reflect the views of this site or the authors, and are the legal responsibility of the original commenter. Intelligent opinions welcome.
Comment here.
<< Back Home
By
Darnell Clayton
•
7:50 PM
•
Email Post
•
•
__________________________________________
Site Search
Email Subscription

Enter your email address below to subscribe.

Button Membership
Net Affiliations

Journalist For
Blog Coalitions
Registered With
Important Information
Blog Stats

View Blog Stats

Plus 10,667 hits before August 12, 2005


Weblog Legalities

This work is licensed under a Creative Commons Attribution 2.5 License.

Opinions expressed here do not reflect the views of anyone that I work with, for, or associate with in any manner.