Hidden Nook
"Because in Cyberspace, no one can hear you scream."
Friday, April 01, 2005
Is Abbas Getting Tough?
[Media Source*]
Or does it seem more like desperation to you?
RAMALLAH, West Bank (Reuters) - Palestinian President Mahmoud Abbas Thursday expelled a group of militants from his West Bank headquarters who had been given refuge by Yasser Arafat, a spokesman for the gunmen said.

Abbas ordered the 26 out after half a dozen of the gunmen -- from his ruling Fatah faction -- fired at his Muqata compound in Ramallah overnight while he was inside and then rampaged through the city, damaging shops. No casualties were reported.
It seems now Abbas has the nerve to respond against these terrorists attacks. Funny how people act only when their lives and/or "things they value most" (in Abbas case power) are threatened. Hopefully Abbas will wake up to the reality of the situation and actually deal with these terrorist groups. Sharon is dealing with the settlement issue (to the dismay of
Israpundit
) and it is time for Abbas to deal with the terrorist issue (actually
disarming them
according to the road map plan).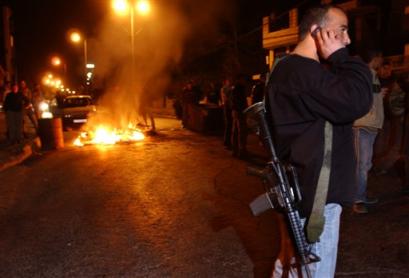 A Palestinian gunman, a member of Al Aqsa Martyrs' Brigades, uses his mobile phone next to a burning tire closing the street in the West Bank city of Ramallah Thursday, March 31, 2005. Photo from China Daily


But not too surprisingly the terrorists have some lists or "demands" that they want in order for them to disarm.


"We wanted our voice to be heard," one of the gunmen told Reuters. "We want our rights and we want protection."


"Better Jobs" was also listed, although that won't get them anywhere if they are dead. Israel has already guaranteed their safety if they would only disarm and with the expulsion from the Muqata compound they really have no place to hide.

If Abbas can bring about the disarming of the terrorist factions (whether through talks or through force) then he will be one step towards maintaining peace in his region, something Arafat himself was never able to truly accomplish.



Deutsch • Español • Français • Italiano • Portugese • 日本語 • 한국 • 汉语











Links to this post:
Comment Policy:
Comments posted here do not necessarily reflect the views of this site or the authors, and are the legal responsibility of the original commenter. Intelligent opinions welcome.
Comment here.
<< Back Home
By
Darnell Clayton
•
12:09 AM
•
Email Post
•
•
__________________________________________
Site Search
Email Subscription

Enter your email address below to subscribe.

Button Membership
Net Affiliations

Journalist For
Blog Coalitions
Registered With
Important Information
Blog Stats

View Blog Stats

Plus 10,667 hits before August 12, 2005


Weblog Legalities

This work is licensed under a Creative Commons Attribution 2.5 License.

Opinions expressed here do not reflect the views of anyone that I work with, for, or associate with in any manner.