Hidden Nook
"Because in Cyberspace, no one can hear you scream."
Wednesday, February 09, 2005
Israeli-Palestinian Cease Fire
[Media Source*]
(China Daily) It looks like their might be another cease fire between the Palestinians and the Israelis. I wonder how long it will last. It isn't that I do not enjoy two societies living side-by-side in peace, it's just that every peace talk breaks down either at
Jerusalem or the borders or some other problem
. Either way, I do hope that these talks will bring about a season of peace in the region. Bush at least seems optimistic about the meeting.
"Prime Minister Abbas comes to the table with a mandate from a lot of Palestinians," Bush told reporters at the end of a Cabinet meeting, unintentionally misstating the Palestinian leader's job title. "He has been through an election. He has been endorsed by the Palestinian people."
Well, I hope he is right. Otherwise we are going to have a lot of dead bodies on our hands.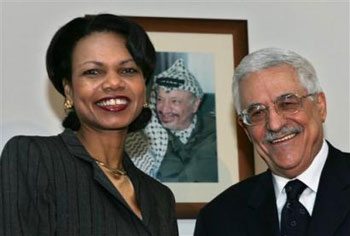 U.S. Secretary of State Condoleezza Rice, left, and her host Palestinian Authority (news - web sites) President Mahmoud Abbas, also known as Abu Mazen, stand next to a photo of the late Palestinian leader Yasser Arafat in the Presidential headquarters in the West Bank town of Ramallah Monday Feb. 7, 2005. Rice wound up two days of meetings with Israeli and Palestinian officials on her first visit to the region since taking office. [AP]


At least Abbas seems cooperative and is taking real steps towards peace.

"Two weeks ago, we announced a cease-fire. Since then, we have been in extensive talks with the Israeli side over many issues. If you wait for tomorrow, you will hear about the results," Abbas said after meeting with French Foreign Minister Michel Barnier in the West Bank town of Ramallah.

We will be waiting. Selah!



Deutsch • Español • Français • Italiano • Portugese • 日本語 • 한국 • 汉语











Links to this post:
Comment Policy:
Comments posted here do not necessarily reflect the views of this site or the authors, and are the legal responsibility of the original commenter. Intelligent opinions welcome.
Comment here.
<< Back Home
By
Darnell Clayton
•
2:42 PM
•
Email Post
•
•
__________________________________________
Site Search
Email Subscription

Enter your email address below to subscribe.

Button Membership
Net Affiliations

Journalist For
Blog Coalitions
Registered With
Important Information
Blog Stats

View Blog Stats

Plus 10,667 hits before August 12, 2005


Weblog Legalities

This work is licensed under a Creative Commons Attribution 2.5 License.

Opinions expressed here do not reflect the views of anyone that I work with, for, or associate with in any manner.